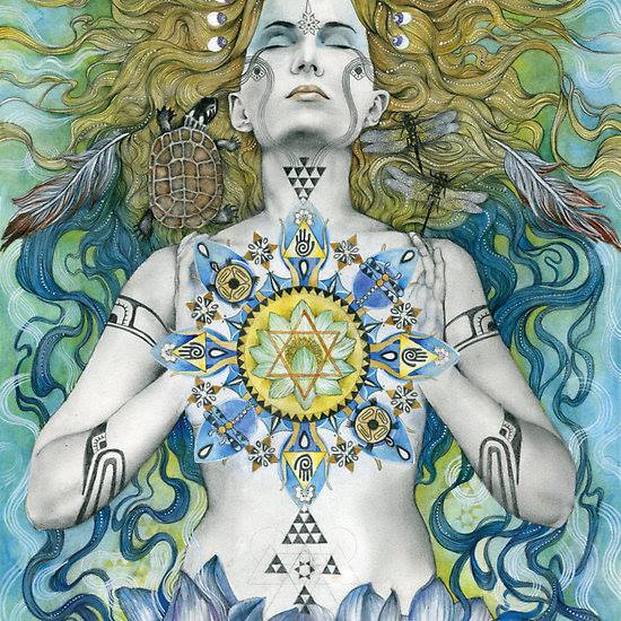 When people ask me to define tantra, I often begin by explaining that although tantra in the North America focuses a lot on sexuality, traditionally tantric spirituality is about all parts of life. It is a path of finding enlightenment through the body.
What does that mean? Most spiritual traditions on this planet have focused on divorcing the Spirit from the body, on trying to get back to God as fast as they can by denying the body, and by judging Spirit as being more sacred or holy than Matter. Christianity, for example, used fasting and abstinence to leave the body behind and transcend to God. Sexuality and pleasure were looked upon as obstacles to holiness.
Tantra is different.
In tantra we see sexuality as a direct path to God. The sexual practices of red tantra open up the body to an experience of bliss that is as powerful as any drug. But there is more to tantra than blissing out and having a lot of really great sex. Practicing tantra brings up the big woundings for healing. These wounds may come from trauma, neglect, rape, sexual abuse, or shaming. Through several years of deep practice I healed many things in myself, including anxiety, letting go of control, self love. Many of my clients have healed past sexual trauma and abuse. This healing leads to an experience of life and relationships that is very different. I experience as much or more pleasure in my relationships as I do pain. And when I feel pain its intensity is often greatly reduced. I also enjoy extremely good health with very little pain in my body. In addition to all these blessings, tantra has taught me how to be fully alive, vital and joyful in my skin. I walk around smiling and feeling my connection to everyone and to all of nature most of the time. And I've learned that this joy comes from letting the sexual energy move through my whole body. Most people call this energy sex when it's in the pelvis, love when it's in their heart, and spirituality when it's in the head.
It's all the same energy.
So for me sexual energy is no different, better, or worse, than any other kind of energy. But the implications are even bigger. If I practice tantra, and it's all the same energy, then tantra can be applied to every part of life. This means that I can apply the principles of tantra to parenting, my community, my romantic relationships, my business, my finances, my physical health and wellness, and even to my enlightenment path. This viewpoint has given birth to a life where I practice my spirituality in each moment and with each person in each situation. There is no separation for me between the tantric practice that I do with my beloved and the way that I speak to the teller at the bank.